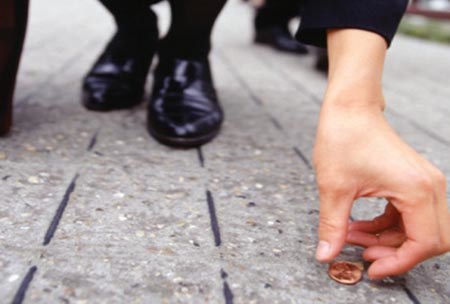 Lost Life Insurance Policies
Did you know that in the last few decades an estimated $1 BILLION dollars in life insurance benefits remain unclaimed? How is this possible? The answer is simple. Lost Life Insurance Policies. In this week's post, we'd like to reference a recent article found on Yahoo Finance entitled "Life Insurers Pressed on Lost Policies."*
The article begins by mentioning a woman, named Mary Lou, who was surprised to receive a check for $7,000 more than a decade after the death of her father. The check was from unclaimed life insurance policies her father had taken out previously, that his family had no knowledge of.
At the time of her father's death, Mary Lou inquired with the insurance company with whom she knew he had policies, to see if there were any other accounts. She was told at the time that they didn't owe her anything else. As it turns out, that $7,000 check was for three policies that she didn't have a policy number for.
Mary Lou voices her concern for the situation as it may affect others, "Can you imagine all the millions or billions of dollars that belong to other people and they don't know to claim it," she says, in Yahoo's article?
Backing up Mary Lou's statement, state regulators estimate that over the decades life insurance companies have failed to pay well over $1 Billion in death benefits. The reason? Because it's up to the beneficiaries to file a claim following death.  One industry official says that whatever the amount is, it's a "very small percentage" of total claims paid. "We know the percentages represent real people and we've been working with policy makers on ways to ensure all policyholders get the benefits they deserve," said the official, Bruce Ferguson of the American Council of Life Insurers.
Recognizing that new technology can help alleviate this problem, insurance companies in many states are being required to check old unclaimed policies against death databases, and to make payouts to those they owe.
Most insurance companies will probably not fight these regulations. Yahoo's article went on to state that opposing a requirement to check the databases would be particularly difficult given that many insurance companies already check them when it's in their interest- for example, to learn about the deaths of annuity customers because such deaths usually end the insurers duty to make payments under retirement-income contracts.
As many such modern systems are slowly being implemented into this industry, the process of handling insurance claims is no doubt going to undergo some changes. The article mentioned above referenced a number of such changes that are already taking place.
Of course we all look forward to a time when this process has been completely ironed out and everyone has a perfect way to keep track of all of the policies they and their family have. But in the mean time, the monetary figures mentioned most likely only strengthen your resolve not to be one of the many whose unclaimed benefits make up that staggering $1 Billion.
Taking advantage of free help which can keep you from becoming part of that statistic is definitely a wise course.
At Cornerstone, your advisor becomes your advisor for LIFE. They work with you to put together a portfolio with all of your information which we keep on file and make available to your beneficiaries when you pass away. This ensures that any policies you have are processed properly and your legacy is paid out to those you left it to.
Contact us today to set up an appointment where we can help you manage all of your insurance policies and investments in one place. Our services are always provided at NO COST to you!
*http://finance.yahoo.com/news/life-insurers-pressed-lost-policies-030100774.html
https://cswta.com/wp-content/uploads/2018/03/claim-your-property-2.jpg
304
450
administration
https://cswta.com/wp-content/uploads/2020/02/WEB-optimized-OFFICIAL-LOGO-v-2.5.20.png
administration
2018-03-13 12:59:55
2018-03-13 13:03:54
Lost Life Insurance Policies